Breakfast at the Cafe Luna again and sketching, of course. OH: "You just pick a nugget of wisdom from each workshop to remember. Don't be overwhelmed." Good advice.
My first workshop of the day, Virginia Hein, "The Color of Light", watercolor techniques. We walked to the Formal Gardens in Grant Park. She demonstrated painting shadows, then we tried it; demo of warm vs. cool colors, then try it; then full watercolor demo, and try it. She made it look so easy. I added a few pen details to mine at the end. The morning was beautiful, cooler, and Alicia joined me there during the class.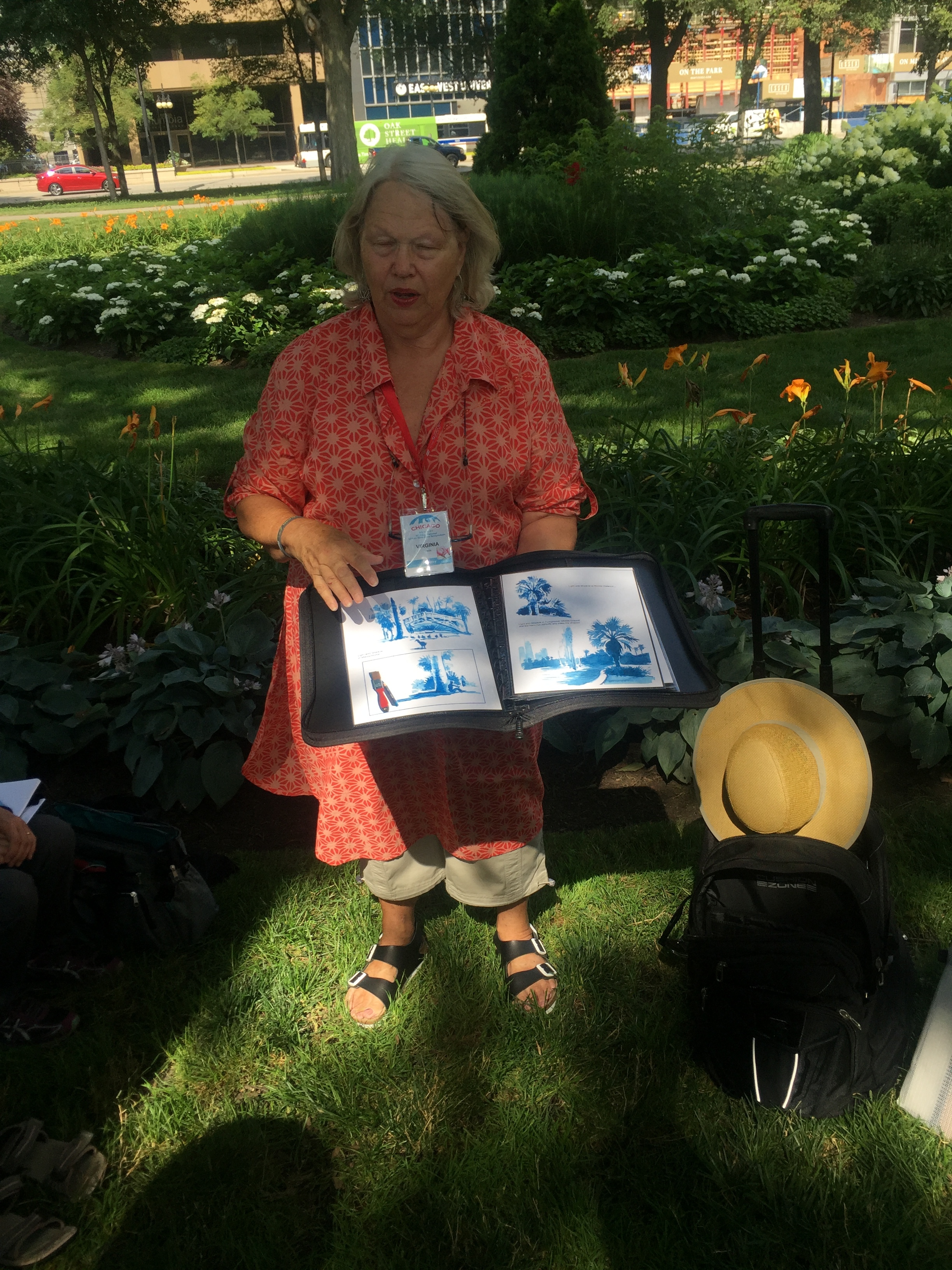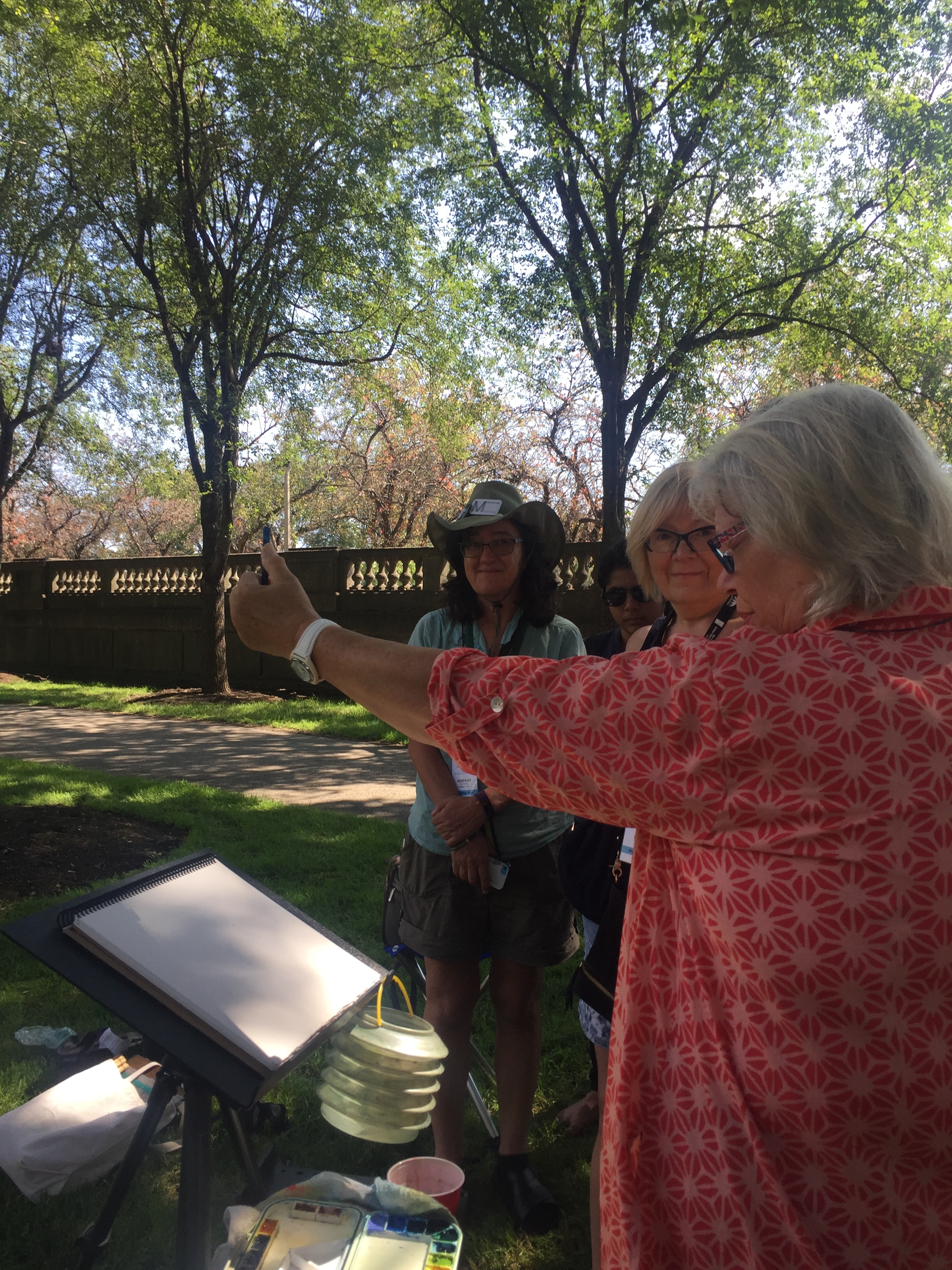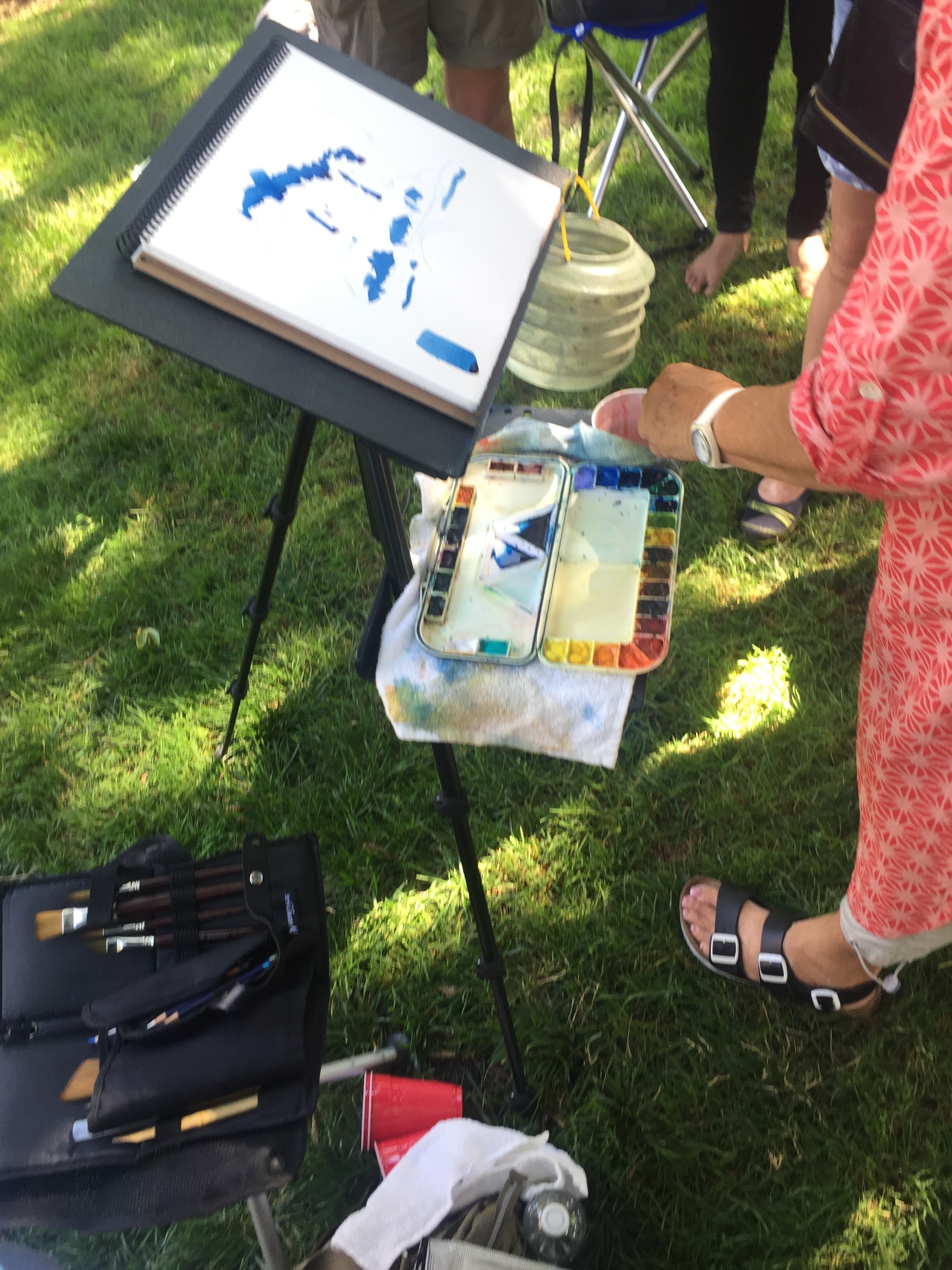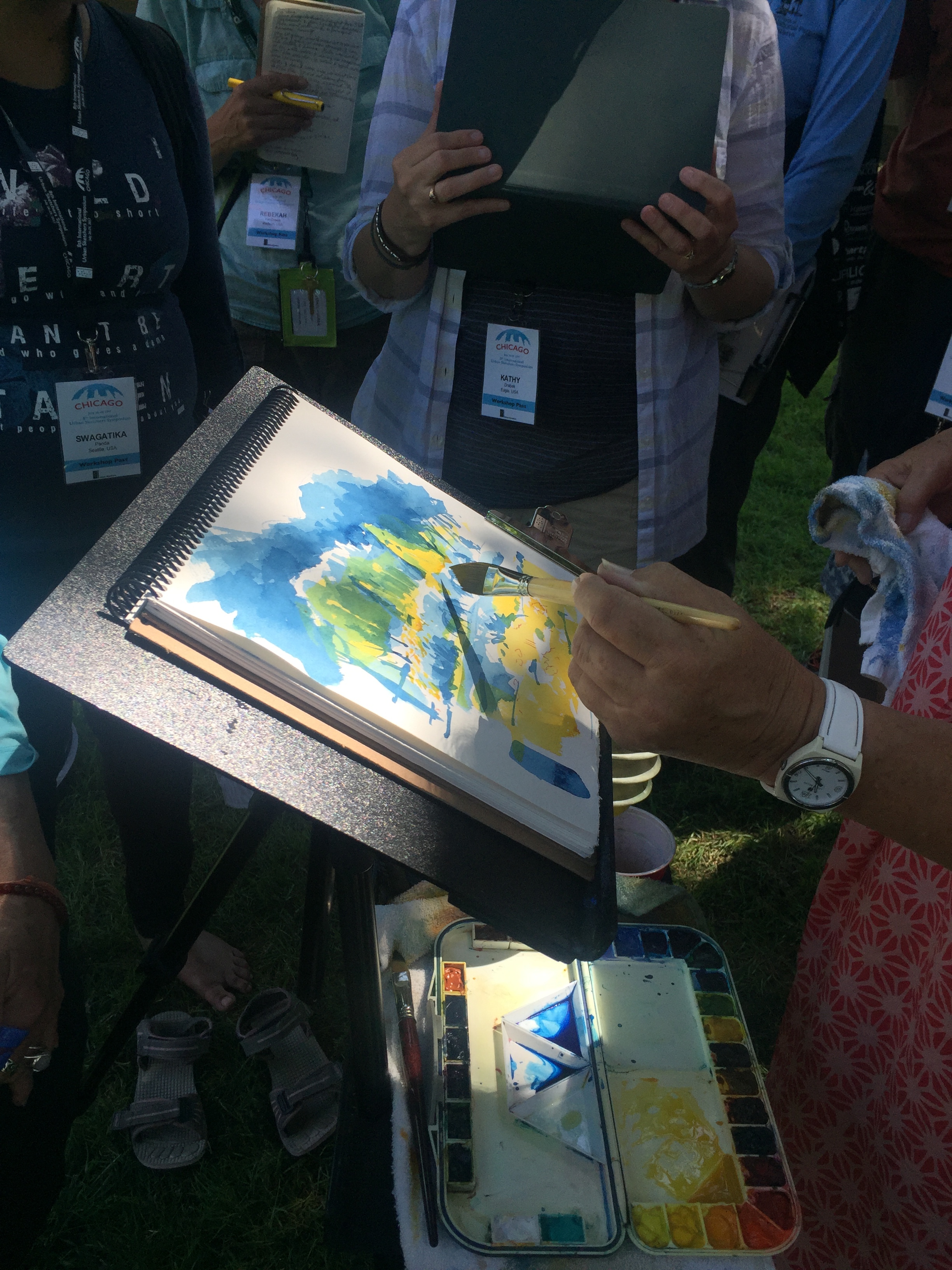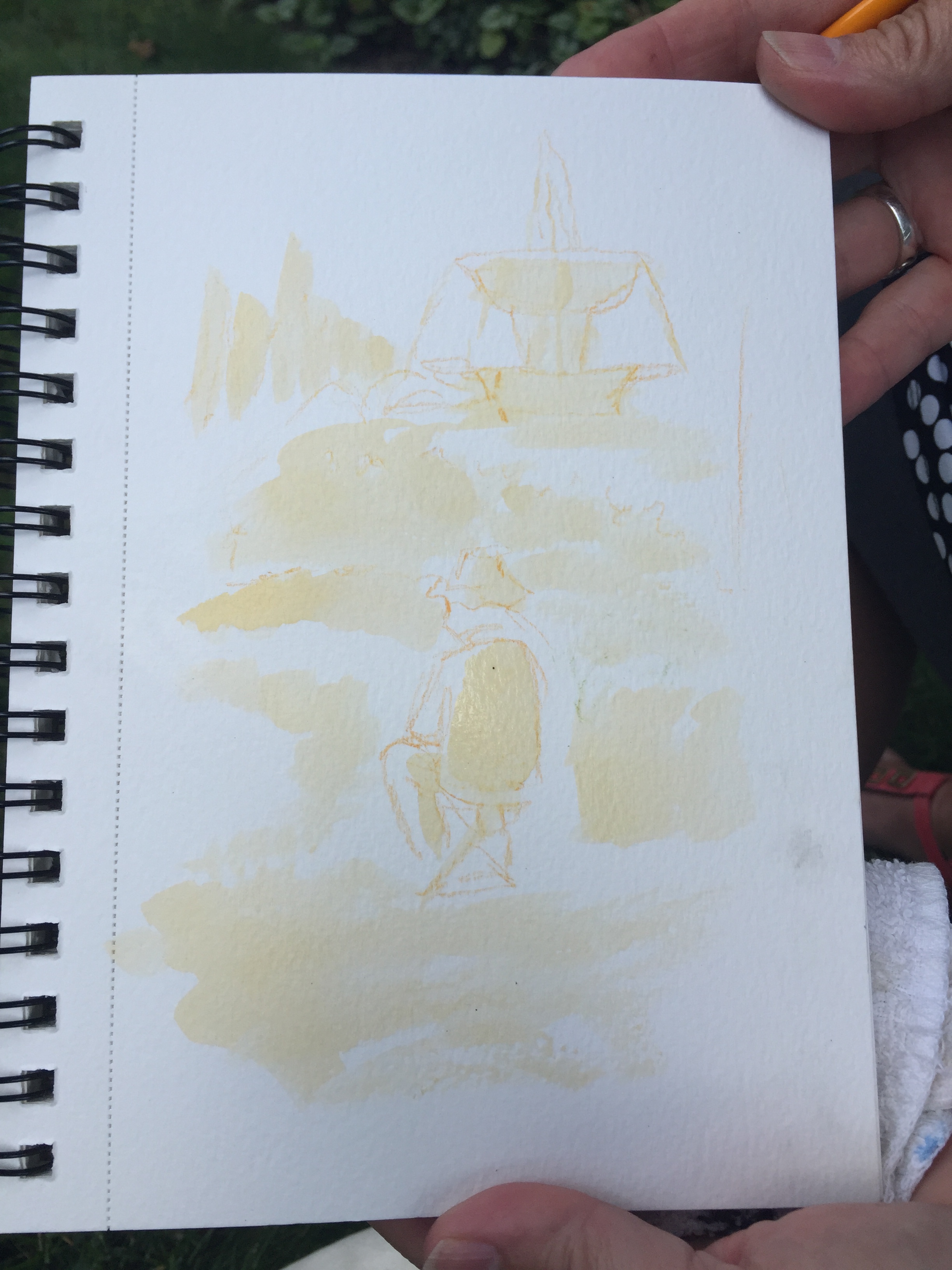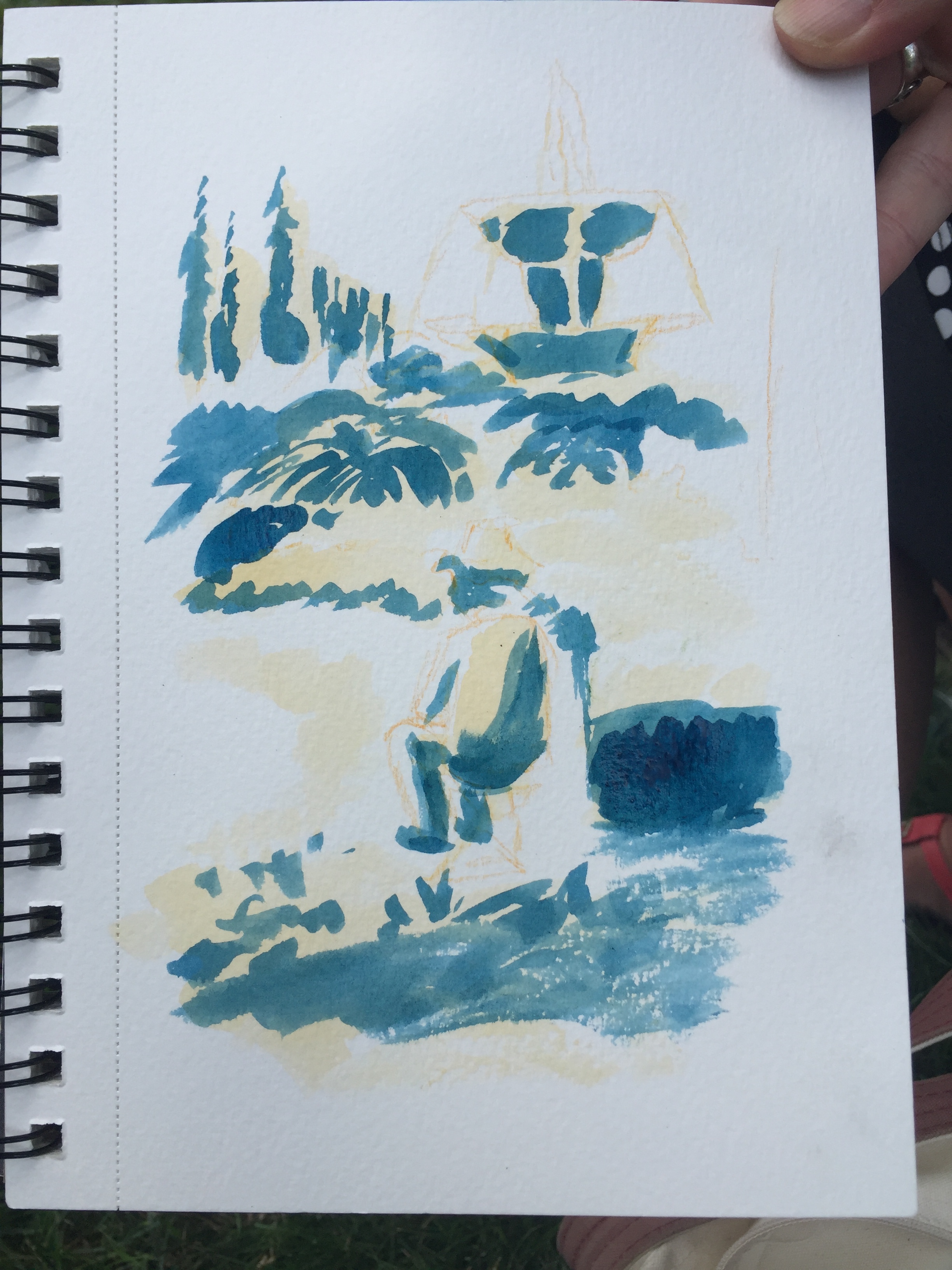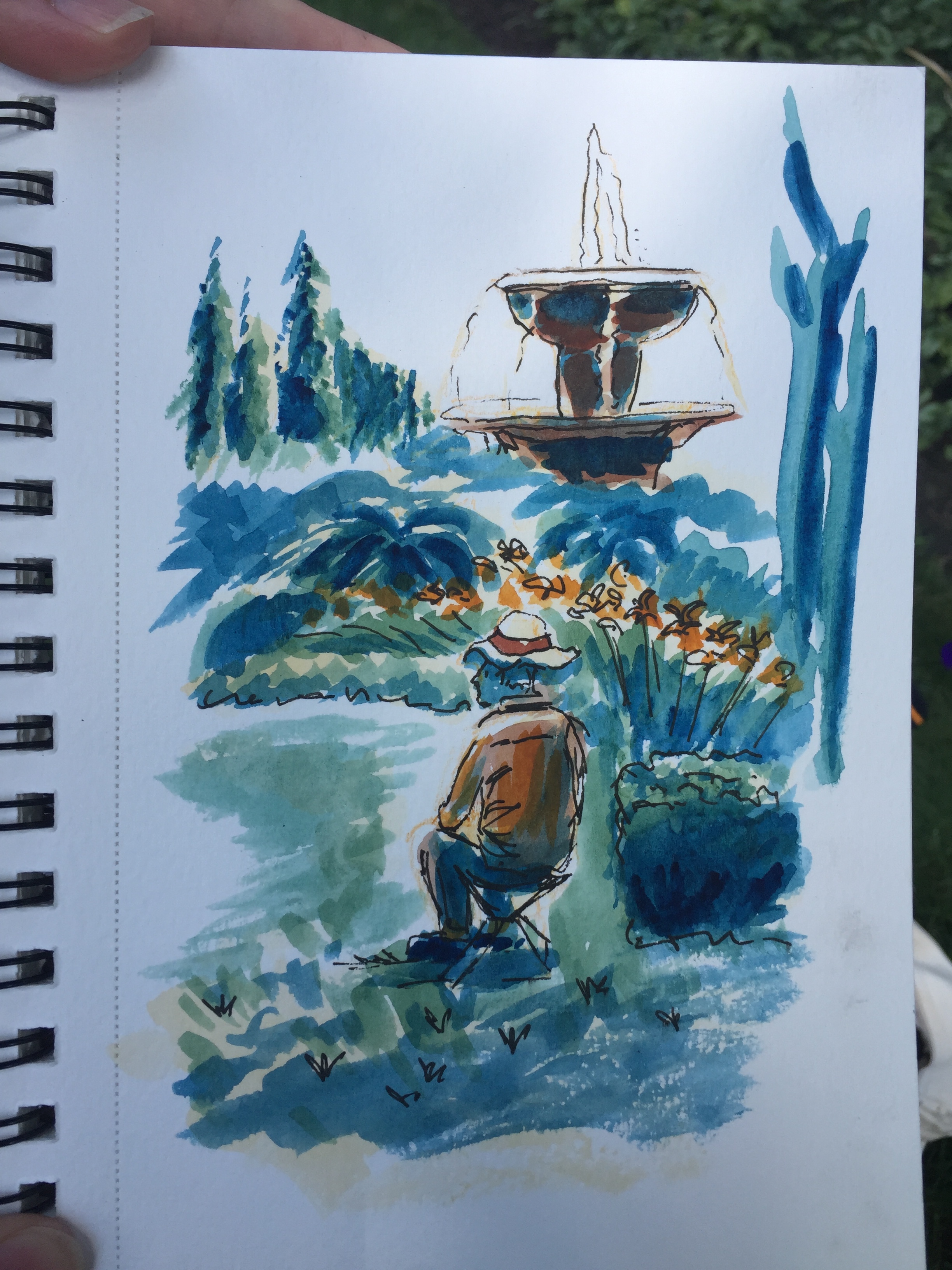 The main points:
"Observe carefully, draw freely." Virginia's philosophy.
Every time you have a different tool in your hand, you think and do differently.
Leave sparks of white.
The artist's squint. Her favorite way to see the values.
Push lights to white and darks to really dark.
The eye goes to contrast, detail and saturated color.
Drawing composition...drama, diagonal, contrast, detail, people.
Warm colors come forward and cool recede backward.
Use broad warm patterns in the foreground.
After the workshop we walked a couple of blocks for lunch at Buddy Guy's Legends Chicago Blues Club, and listening to Fruteland Jackson play acoustic guitar blues. (The sign out front said "Soup of the day...Bourbon.") So much walking, I'm wearing out, yet sketching energizes me.
The afternoon workshop was given by Swasky, "Bending the space". We walked as a group to Cloudgate, or familiarly "The Bean", and he talked about flattening a space like opening a box. I had a different take.
We had 45 minutes to flatten the Bean and the square. Instead of standing in the middle and lining the edges with the warped buildings, I did a picture of the Bean from each side and end, with the buildings behind fanned out and the reflections in the bean of what was behind me. It was very meta. It wasn't quite the assignment, but I love this sketch so much.
Then we walked to Wabash and sat under the El to try the "corner" method. It was hot, I couldn't hear well, I was tired and the noise of the El took its toll. I didn't understand the technique, yet came up with some good sketches. I'll have to practice at home, later.
Alicia and I skipped the evening lectures and had a good surf-and-turf dinner at a swanky restaurant. It was delicious...and quiet...and cool. Tomorrow is the last day and I am so tired, but so happy. Here are a few more impressions from this day.
See also:
Day 3: A protest, colorful shirts, USk blog